Gifting is one of the few ways that brings an instant smile to people's faces. Not only this, but gifting is also a way to express emotions like love, fondness, thanking and showing how much the person means to us. Most importantly, when gifts are given on birthdays, people are reminded of the importance of their existence. Similarly, sending gifts to employees on their birthdays underlines the role that they play for us. Now, these are the people who make our 9-5 so much more exciting and enjoyable. You can't just celebrate their birthdays or go and buy them something that is not so very gift-like.
Do you know what's a simple yet super effective way to make your employees feel like the shining stars they are? Celebrating their birthdays! It's not rocket science; it's just a sprinkle of appreciation magic. We're here to tell you that it makes a BIG difference. And let's be real, who doesn't like celebrating their birthdays, getting appreciated and getting gifts?
Gifting on birthdays isn't just a random tradition; it's a relationship booster! Over 80% of people surveyed said that giving or receiving gifts at the workplace made their connections with colleagues or clients better. It's like a warm, fuzzy hug for your professional relationships. And guess what? Half of the people surveyed said gifting brought substantial benefits. That's right – a small act of kindness can lead to some major positive vibes in the office.
Now comes the big question, how do I choose the perfect birthday gift for my staff? Fret not, for we are here to help you out. You see, choosing a gift for your employees may not be as difficult as you may be led to believe from social media and whatnot.
Let's give you some tips so that you can get the best corporate gifts for your employees.
– Ensure all employees receive similar gifts or items of equal value.
– Avoid disparities to promote a sense of fairness within the team.
2. Personalization Matters:
– Add a personal touch to gifts through customization.
– Consider individual preferences to make each gift unique.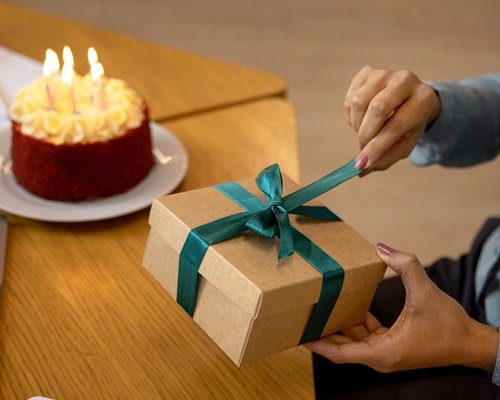 Now, we would not leave you at some ambiguous point, just yet. Here are some unique birthday gifts ideas for your employees. You can get some really nice personalized T-shirts to raise the team spirit (but since it's supposed to be a birthday gift, don't buy everyone the same design). Bags, customized stationary (my personal favorites), mugs also serve as a great option to choose from.
Here's the secret sauce: go for something personal! It shows you've put some thought into it. Whether it's a personalized coffee mug with their name (because coffee is life, right?), a cute succulent plant to brighten up their desk, or a quirky desk accessory that screams "You rock!", there's something for everyone. A gift that is accurately suitable to the employee's personality gives it the required personal touch and will also ensure that the employee feels connected by heart and not just by bank account.
So, here's the scoop – don't skimp on celebrating your employees' birthdays. It's a little investment with a HUGE return in terms of morale and the warm and fuzzies. Let's keep that office camaraderie alive, one birthday gift at a time!
At AllThingsCustomized, we have been offering customized corporate gifting options since a decade. We have worked for 500 fortune companies to start-ups and curated special Employee welcome kits to customized hoodies, stationary and more. Reach out to our team at 9965569656 and we can help you create your employees' special day a little more special!